Recommended Listening
DOCCD 3001 Doctor's Order "Doctors In Disguise"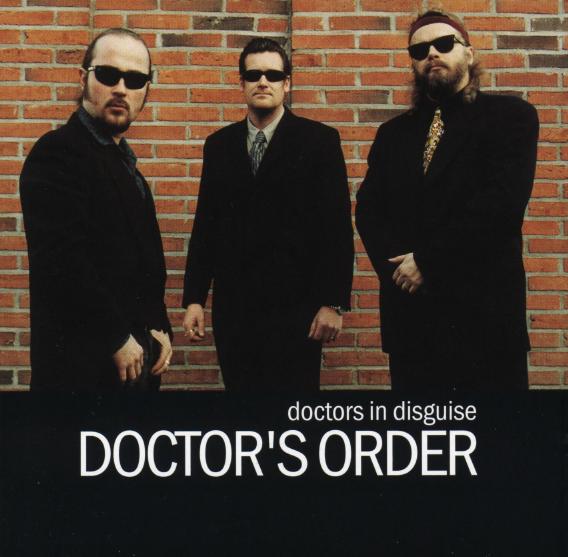 Brand New Album Out Now!
Doctor's Order: "Doctors In Disguise" (DocOrder Records DOCCD 3001)
Doctor's Order is a trio whose recipe is a naughty kind of Rythm'n'Blues and Rock'n'Roll. They did their first gig in October 1998 at a private party and then, Pete Gage of Dr. Feelgood was handling vocal duties and harmonica as a special guest. Since then, the band has toured and amazed audiences with its hard driving music and action packed stage shows all over Finland.
Before Doctor's Order, the drummer, Mad Man Väätäinen and the bass player and vocalist Teppo Nättilä used to play with a legendary finnish Rock'n'Roll band called Jolly B Good who have made three highly regarded albums in the early 90's. With that band they opened shows, for example, for such bands as Georgia Satellites, Canned Heat, Omar & The Howlers and Dr. Feelgood. Archie Hämäläinen is an excellent guitarist who plays lots of hard hitting slide guitar with Doctor's Order. Lil' A has earlier played with several well known line ups and has already toured Italy in the mid-80's with a finnish Rock'n'Roll band called Black Slacks.
Now, DocOrder Records has released their first album "Doctors In Disguise", which comprises of 11 own songs plus 3 covers. Contents of this CD are 14 songs and 42 minutes of naughty Rythm'n'Blues and mean Rock'n'Roll that should be enjoyed daily and always very loud!
Doctor's Orders are:
Timppa "MadMan" Väätäinen - Drums
Teppo "Teddy Bear" Nättilä - Bass & Vocals
Arto "Lil Archie" Hämäläinen - Guitars
Special guest on some tracks: Ensio Takamäki - Harmonica
Information and bookings:
DocOrder Records, Aleksis Kivenkatu 4-8 D 84, 00500 Helsinki, Finland
www.doctorsorder.net
email: docorder@nic.fi
phone: +358 40 730 1578
The above text is from the press release sheet I received together with the CD. See you around, and don't forget the real Dr. Feelgood, Lee Brilleaux. Yeah!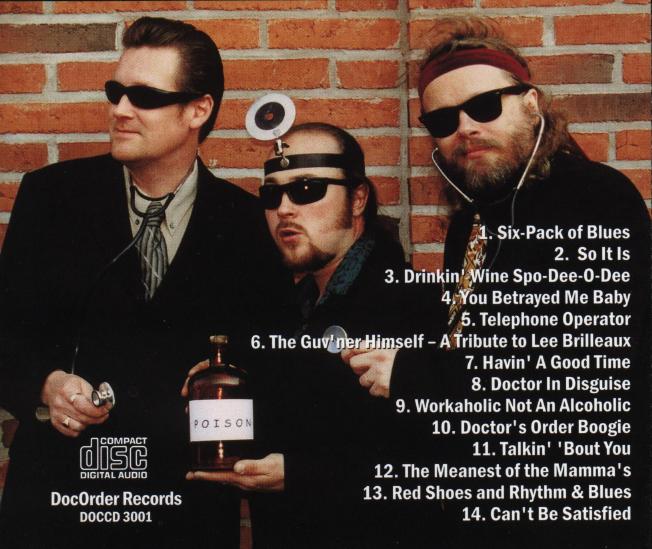 What can I tell you about this CD? Not very much, in fact! My advice, buy it. This is indeed an excellent Rythm'n'Blues/Rock'n'Roll record, which should make you jump around all night long. And what's more, you get track # 6 "The Guv'ner Himself - A Tribute To Lee Brilleaux" and lots and lots of good music. As they say "Don't Forget To Boogie"! And there's even more, you get the coolest cover picture this side of Rythm'n'Blues. Kind of "ZZ Top" meets "Nine Below Zero". Keep on rockin'!
I just had to come back to say more about this CD. I've had it now for almost 10 days and it's playing non-stop in my CD-player. What do I think now, that I've heard the album about 40(!) times (no mistake)? Wonderful stuff! You (yes, you!) need this in your collection like you need the air to breathe and the water to drink. Else you wouldn't be on this site. My favourite on this CD? They are all great. But, if I'd have to pick a few, certainly "So It Is", "The Guv'ner Himself - A Tribute To Lee Brilleaux" (small wonder), "Doctor's Order Boogie" and and and. AND! YES! THERE'S ONE SONG THAT HAS ME GRINNING FROM EAR TO EAR NO END!
Doctor In Disguise
"He's A Doctor In Disguise
Pretends To Be Nice
He's A Doctor In Disguise
You'd Better Be Wise
It's A Piece Of Cake
The Doctor Is A Fake"
Ladies and Gentlemen of the jury, I rest my case. If this isn't funny, then I don't know what is. Now, go shopping! You NEED one, your husband/wife/boyfriend/girlfriend/brother/sister/friends/coworkers/didiforgetsomebody? all need one. This is rockin' round the (whatever)tree! Just finish the year with a real treat! This album!
Addition: March 18, 2002 - The CD mentioned on this page "Doctors In Disguise" has been sold out. Do not order! Do not ask me, I've no copies to sell. However, you can watch this space for further news of the upcoming CD and be a bit quicker when the new one is coming out!
Addition: December 9, 2003 - The CD has been rereleased as the "Tres Aniversarios Edicion!" with 11 bonus tracks "Live At Radiomafia Roots Evening". Place orders at the above address (cash only in a letter, payment in advance). This is GBP 15.00 / EUR 20.00 per CD and that includes postage anywhere.

So, you want to know more about Doctor's Order?
I went to three of their gigs in January 2002 and these are the impressions I came back with!
---
Other people have this to say about the CD:
Roberto (Mad Men Blues) from Italy says:
i also got the doctor's order cd. great stuff, i guess they really love that music. strange northern accent, though ("good" sounds like"kood" to me!); a big dose of swing too! (what we -our band-lack of!!)
Yukiko from Japan says:
heard the doctor's order throughout the weekend. i like them and there's no doubt these guys are first-rate boogie makers, seminal, solid and tough. the cd and they will be good pals for booze!
if i can complain, though, I wish they were a bit sexier. being sexy in your music is important regardless of gender of the player(s), and listener(s). and being sexy in a "real" sense often requires you are matured as a human being, care aboutothers, and you're a great person.... why do i love lee brilleaux so much? 'cause he was so sexy!! and it does NEVER change if i were a man.
Hanspeter from Switzerland says:
Sorry about the belated review. We spin the CD quite frequently. This is great stuff to play at top volume on a Saturday night. Of course, we have to invite our neighbours over for the party. The likes of Dr. Feelgood, Doctor's Order and Nine Below Zero on the stereo make for a guaranteed success. Thanks for the CD and I'll promise to be a bit quicker about it the next time.