The third Johnny Spence & Doctor's Order CD to be released. If you don't want to read until the end, here's what I have to say: Go and get it! Buy it from your local dealer, directly from Goofin' Records (www.goofinrecords.com - they have released this CD - GRCD 6183) or contact the band. Just do me a favour, keep it in the family, so to say. Don't support the corporate mailorders.
There's enough brick and mortar dealers happy enough to order this for you. Let's support them (or the band, or Goofin') directly.
And now for all who have a longer attention span. I have right enough trouble reviewing a new Doctor's Order (or Johnny Spence & Doctor's Order) album. And, amazingly, I get something new from each and every release and by this, I don't mean just new songs, but a shift in direction. Sometimes small, sometimes big. This is, kind of, a big one. Not that they're playing Finnish folkmusic now, but the intensity with which they've thrown all their weight behind the Rock'n'Roll carriage is, simply astounding. Of course, I know that they always played R'n'R (amongst other stuff), but what you get here is a trip back in time, produced with todays studio gimmickry.
Speaking of which, you should know by now, that I like my Doctor's Order a bit on the rough side. That's not to say, I will do with bootleg quality, but I don't want them polished beyond recognition either. Bull's Eye, it's like the studio engineer heard my prayers. One could easily pull all strings that recording and mixing software allows one to do. Fortunately, for the listener, this hasn't happened here. Kiitos. Hyvää työtä.
There's always a bit of tension when I'm listening to a new Doctor's Order release. Funny, I know they will not disappoint me, but yet, there's still the question, will they pull it off? And every time I go, after the first runthrough, "what do you think should have happened, Doctor's Order jumping the Gospel train?". Well, I shouldn't worry, and if the day comes, that they will release an album not worth hearing, I'll promise you here and now, I will not even mention this. Not on the website, not in my blog.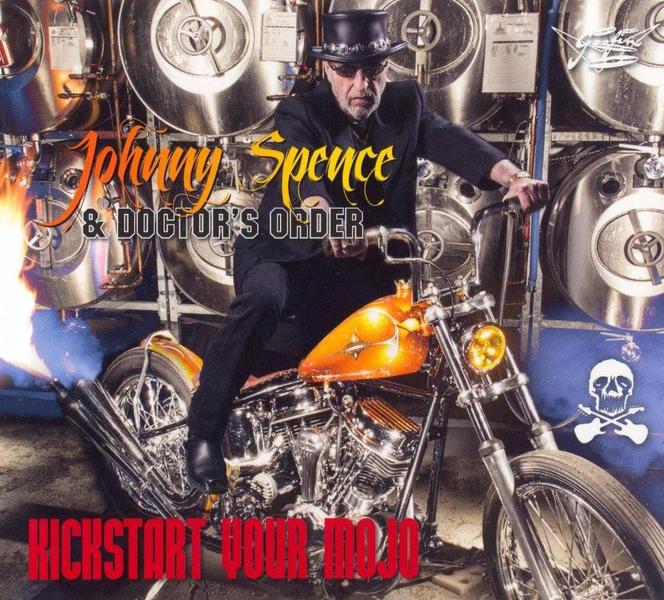 The CD itself comes in a digipack with a mean looking Johnny Spence on a motor bike on the front cover. Unfortunately, there's not much information to be found on the packaging, so your best bet is to visit Doctor's Order's website http:www.doctorsorder.net
The songs:
Kickstart Your Mojo (Johnny Spence Original)
Strange! This has me confused. Period. I hear this song and I start thinking "who's done something similar before?" and I come up with exactly a big fat zero, although I'm 100 % sure, these effects have been used a number of times in the past. This is studio wizardry, making it sound like Johnny is addressing a mob through a megaphone, warning them off the streets or else ... and solid backing by Doctor's Order. A dream team. Teddy Bear Nättilä shines on bass here.
Keep Your Motor Running
Some excellent guitar work by Grande-Archie Hämäläinen. Of course that was to be expected. Teddy Bear Nättilä and Mighty Man Oikarinen providing a rocksolid backing. This is Rock'n'Roll roll, friends and neighbours, that let's no doubt as to who is in charge. Johnny's vocals here take a bit of getting used to. Or am I just a tad confused (again!)? When I close my eyes, there's more than just a bit of the bass players vocals to be heard. Call me tone deaf, but it does sound like Johnny is imitating Teddy Bear Nättilä.
Get Me To The Doctor (Johnny Spence Original)
Well, now this sounds like Johnny. No doubt about it. This is the real McCoy. Some nice harmonica from one of my favourite players too. Very laid back tune. At least as laid back as Johnny Spence & Doctor's Order can be. This tune in another band's repertoire would be a full out rocker and not this blues based bar song, to be played half an hour before they close the joint. Bartender! I have another one!
Up Jumped The Devil
This track makes me realise, that I'm actually listening to the most Rock'n'Rollish album that Doctor's Order (with or without Johnny Spence) have ever released. I'm very keen to see the reviews, say in Dynamite! or elsewhere. As I mentioned in my blog, this is neither under- nor overproduced. Just the right amount of fiddling the knobs here. Or these days, it should be "tweaking the software". Never mind, this sounds handmade and that's a good sign.
Blues About You Baby
There are two songs on this album that make me think of Wild Bob Burgos. This one here and "Rockin' My Life Away". It's not so much the drumming, but definitely the vocals. Johnny is in Wild Bob Burgos mood here, no doubt about it. Fine pianowork to be heard. The song itself is a cross between a Blues (what a surprise) and slow (if this is even an option) Rock'n'Roll. I'm seriously starting to think, to pull out this CD for the next candlelight dinner. I can retire my Frank Sinatra collection. Ahem!
Voodoo Thing
Come to think of it, I'd rather not. Because this song goes at around 100 miles per hour and is not your idea of a romantic date. But it does for an all out rocker. Johnny is shouting his tonsils out, the drumming is rocksolid, the bass weaves in and out and the guitar is screaming. Did I forget something? Ah, yes, Rock'n'Roll is here to stay! Speaking of drumming and the lot, this is rocksolid drumming by none other than Mighty Man Oikarinen. You don't hear him very often bashing the skins like this, he's actually a very refined drummer, but he's letting loose this time. No wonder I confuse a couple of tracks with Wild Bob Burgos takes.
Restless
Difficult one to have an opinion about. Heard it so many times, but to these ears, this is a Johnny Kidd song. Well done here, but I believe this is tattooed in my brain in the original version and the latter day Pirates get a nod as well. Having said that, this is a good version and there's nothing wrong in the way it's delivered, although the song is not as unkaputtbar as, say, "Shakin' All Over". Even so, thumbs up for this.
Going Back Home
A double whammy! I can't really take a stand when it comes to "Restless" and now I'm getting this? I know that this is a Mick Green/Wilko Johnson collaboration, but considering my whole Pirates/Dr. Feelgood/Wilko Johnson history (which has been going on for longer than I care to remember), this is, to these ears, a Wilko Johnson song. Not even Dr. Feelgood, mind you. Good versions by Dr. Feelgood, by the Pirates and now by Doctor's Order, but the glory goes to Wilko. I'm not even trying to hide this fact. When I hear this song, there's W-I-L-K-O written all over (including the neon signs). Good version though. There's a fine line between excellent try and one for the bins. You did yourself proud. Of course, Mr. Hämäläinen leaning into this, harmonicas up there again, the drummer is holding everything on track and the bass is bubbling away.
Rockin' My Life Away
This is the other track that screams Wild Bob Burgos all over. I'm even beginning to think this one's in his repertoire as well. It's a bit difficult to check it in my collection, order was yesteryear. A goodtime Rock'n'Roller that would make a good figure at every hop. And, am I being followed, Johnny even sounds a bit like the tattooed sledgehammer. Mighty Man Oikarinen sounds like him as well. And the piano, and ... OMG, they found me and it's back to the loony bin.
Crazy Personality
Johnny pulls a fast one here. Sorry, couldn't resist the wordplay. This is indeed another one to break the 100 Miles per hour mark. No wonder they are through in 1'44" flat for the songmile. Bloody great track, the singer sounds a bit like he can barely follow himself, but the band keep time with the whole trio providing a very firm foundation on which Johnny can surf. Wonder wether he could pull himself together in such a short timespan.
Roll On
Nice one! The bass and the drums give it a feel of a long distance train journey, with the guitar providing the clickety-clack. Must have been an old-fashioned one. Steam driven at a guess. Top speed somewhere near an amazing double the speed of the buffalo running beside your railway carriage. Downhill! I would have liked to be on board, because the song has that certain something and it's been made one of their own. By the 3 minute mark, the song comes to an end, but you have a gut feeling, that you're going to stay on this train for a couple of thousand miles more.
Let It Rock
For the closure, Johnny Spence & Doctor's Order bring you the old chestnut "Let It Rock", written by Chuck Berry and with this version, they, again, give it all. Guitar marking it's place, bass pumping away, drums tac-tac-tac-tac, harmonica back in service and the piano hammering and, yes, Johnny giving us a farewell shot.
Line-up
Johnny Spence, vocals
Teddy Bear Nättilä, bass
Mighty Man Oikarinen, drums
Grande- Archie Hämäläinen, guitar
Special guests
Ensio Takamäki, harmonica (tracks 3, 8, 12)
Harri Saanio, piano (tracks 5, 9, 12)

Juha Takanen, percussion

One final question, how do I rate (just for myself) this CD, considering all the other releases by Doctor's Order (with or without Johnny Spence)? I honestly don't know, it's in the top tier, that's for sure. At a guess, I'll have some extensive Doctor's Order listening to do in the next few days.
Information and bookings:
www.doctorsorder.net
email: docorder@nic.fi
phone: +358 40 730 1578
EURO 15.00 for each CD (includes postage)