News 1 (Dr. Feelgood - New Releases)
Some things have happened since the last update to this news section. One, the "Down By The Jetty" Collectors Edition (double CD set) has arrived to these shores as the full commercial release. And, oh boy, have EMI been doing a fantastic job. I couldn't have imagined a better product than the one I'm holding in my hands. First, the booklet is excellent with lots of photos and a well written piece by Will Birch.
As to why one should buy this release on the strength of the music, I'd like to point out, that if you don't, then don't call yourself a Dr. Feelgood fan. This is chock full with alternative versions, other unreleased and/or brandnew songs. As fot the altetnative versions, you don't need to be a rocket scientist to make out the differences in the tracks laid down to the original ones. As I've read it in the meantime, the stereo versions of some of the tracks were either lost or just substandard, so EMI had to use different takes. And that makes this album so special. Thank you EMI for a job well done.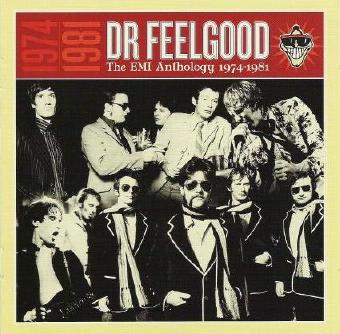 From high up north, from the land of the perma frost and would be bear hunters (if you're living in Germany, Austria or Switzerland, you'll understand the pun), comes this release here. Dr. Feelgood "The EMI Anthology 1974-1981" released by EMI Finland. I don't think you'll be able to buy this compilation outside of Suomi. Your best bet is probably some mailorder outfit. Or a ticket on Finnair to fly to Helsinki.

As with the "Down By The Jetty" release, EMI have done their job very well, and once again I have to tip my (non existing) hat to these guys and gals. Excellent booklet with lots of photos and a seven page piece by my good friend Teppo Nättilä. I mean, I don't understand a single word what he's saying there, but I'm sure it's excellent (if you happen to practice the finnish idiom). As it goes with compilations, you can argue until doomsday, but I think that's a very good job done on this front as well.

Of course, I can be the measly type of guy now and demand an explanation why "Java Blue" has been chosen. But, overall, this is a very worthwile showcase of Dr. Feelgood during their United Artist years. No unreleased material on this double CD set, but for the booklet alone and the fact that this will be a rarity in no time due to its limited distribution, you should pick up some, if you can. Trust an old fellow Dr. Feelgood fan. Oh, and btw, this is remastered all the way through.

As for mailorder, http://www.epes.net/ has the CD on stock and apparently does international mailorder too. Search for Dr Feelgood (and not Dr. Feelgood, as this will get you no results at all). And btw, when you're at it, you might as well order the book "Dr. Feelgood And Wilko Johnson - From Roxette To Ramona" from the same seller.

Week 43/2009 saw a film about Canvey's Finests hit the cinematic screen in the U.K. Julien Temple released the full feature film "Oil City Confidential" which gets a limited release in theaters on the island. Hopefully, there's going to be a DVD release, otherwise I'll miss out on this one. There's not much I can tell you about this, as I've obviously not seen it myself. There are a few online reviews and I had this slighty mad grin on my face, reading about "Temple wisely ends his film when Wilko leaves" and "Amazingly, there's still a band doing the circuit called Dr. Feelgood, with none of the original musicians as members, presumably playing Dr. Feelgood songs. But that's the 21st century for you". There's an article on the website of theartsdesk "Oil City Confidential, London Film Festival". Recommended reading. On the same website, you'll find a rather extensive interview with Wilko Johnson, about the film and other matters. This is "Q & A: Wilko Johnson". This is really the most personal and private interview I've read regarding Wilko Johnson. Sometimes almost unbearable to read. There's a man who's been hurt badly. I wish him all the strength he can muster (and some more).


There's a new Dr. Feelgood compilation out there. "Oil City Confidential" and it's not strictly our boys, but three tracks by Johnny Kidd and the Pirates as well as the Paramounts. Of the 20 Dr. Feelgood tracks, 19 are from the Wilko Johnson era and only "Milk And Alcohol" not actually matching the subject. But there you are, this was, of course, their greatest single commercial success (apart from "Stupidity", but that's an album). There's going to be something about this CD on the Website, but don't expect anything anytime soon. I'll take my time¨!


And as of February 19, 2013, there's a re-release of "Live In London" in the shops. With additional tracks and well worth buying (and listening). There's a short review in my blog (http://thepracticerocks.blogspot.ch/2013/02/dr-feelgood-live-in-london-118.html)! And if you think "I've already an earlier version in my collection and I don't need this", then let me tell you, you're wrong! 100 %!

February 19, 2013
---
News 2 (Wilko Johnson)

I'm pretty sure you all have heard the news about Wilko's health situation by now! If not, please check the internet (there's a bit in my blog as well). At the time of this writing (February 2013), Wilko is doing a series of farewell gigs in France and the U.K. He's been asked about a new forthcoming CD and he confirmed it in an interview, that he's working on it. Depends on his ability to do this, of course. From what I hear, he's feeling o.k. so far (as o.k. as you can feel with this diagnosis, I suppose). I've seen him in Bartenheim/France at the beginning of this month and he did look great and was his usual self on stage.

I'm pretty sure you know this already, but here we go: There's also a DVD in the works, taking in some of his performances during the farewell tour. Unfortunately, Wilko was not able to play his two gigs on Canvey Island. The gigs will not be played at some other date, so this is probably the final curtain as regards to live appearances. Although what I can see from a very recent photo, he's been guesting during a gig in Southend-on-Sea just a few days back.
March 31, 2013