Recommended Listening
bp1 The Radiomafia Roots Evening Sessions Vol. 1 bluespower!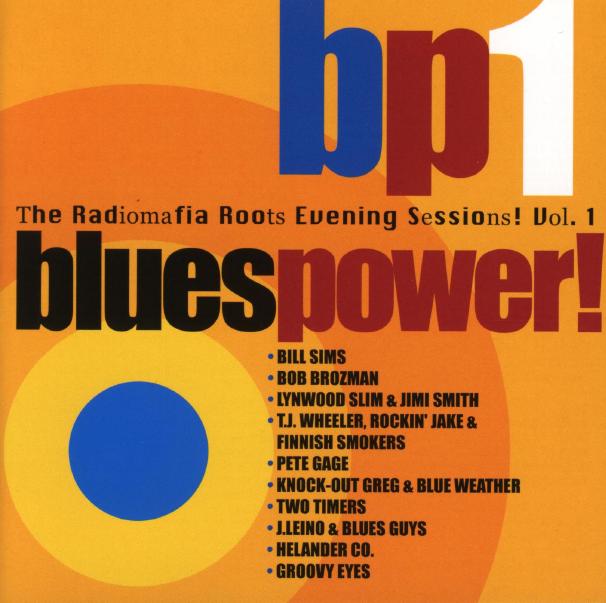 The above CD was received from Teppo Nättilä Finland. Teppo works for a national finnish radio called "Radiomafia". Their roots evening is every Monday from 9pm to 2am. The program covers everything from Blues, R&B, Soul, Funk, Gospel, C&W, Rock'n'Roll, Surf, Jump, Jive, Groove Jazz etc. This is a compilation of (what they call) field recordings of artists passing through Finland. These are all studio performances (or in the case of the "Two Timers" live in front of audience recordings). This CD seems to have been released to coincide with the tenth anniversary of the roots evening sessions. (Radiomafia has a live feed into the internet. Go here and click either one of the two media players in the top right hand corner. It's quite worthwile to dial in to this station.) From the booklet: Radiomafia comprises 74 % music and 26 % intelligent journalism and snappy humour. Well, the journalism and the humour would be lost on me, as I don't speak a single word of finnish. So, let's turn to the music instead.

Most of the tracks here are, what I would term, hardcore blues. In this sense, they sound like real field recordings. A point in case; the first two tracks by "Knock-Out Greg & Blue Weather". A Swedish band, but you wouldn't know this, if the booklet wouldn't tell you as much. This is as blues as it can get.
There's a whole bunch of artists, both from the States and from Europe on this CD (see scan). This CD makes you want to sit on the porch, a glass of vodka/orange in your hand, and hopefully it's somewhere near 30 degrees Celsius and dry as a bone. You'll be listening to the CD all day long on repeat modus and you will not move your butt. Ahh, life can be grand! As "T.J. Wheeler & Rockin' Jake With The Finnish Smokers" sing here, "You Can Bank On The Blues".

A few words about the two Pete Gage tracks on this CD, "Sometimes I Wonder" and "Going Down Slow". Excellent stuff! This is Pete on piano and vocals. This radio session led to the recording of his solo album "Out Of Hours" (which is another one I can recommend wholeheartedly). Pete's just got the voice for these kind of songs. Step back ... what's his name again? Also for the Dr. Feelgood fan, there's another connection on this CD. Two tracks by the "Two Timers", featuring ex Dr. Feelgood gitarrero Gordon Russell. And a bonus track of various artists plugging Radiomafia closes the CD. And from here on, it's all over again, right from the start. For anyone interested in buying this CD, send GBP 10.00 (which includes s/h) to the following address:

BN
Box 257
00531 Helsinki
Finland
I take it, BN means Blue North Records. So I hope you do enjoy this CD as much as I do. See you around!